It seems like everyone in basement waterproofing is offering a lifetime warranty these days. The most important question to ask about the lifetime warranty provided by your basement contractor is… To whose lifetime does the "lifetime" in the warranty refer?
Unfortunately, in most cases the answer is the lifetime of the company doing the work. That means that many "lifetime" warranties will only be good for the few years that most waterproofing contractors stay in business. Then, when your basement waterproofing companies' bank account is bone dry and your basement is soaking wet, the lifetime warranty won't be worth the paper on which it is written. Since B-Dry® Systems of Louisville opened for business in 1980, over fifty waterproofing companies in the Louisville area have gone out of business and their warranties went with them. We share the frustration and anger that our many neighbors who entrusted their basement waterproofing work to these companies now feel.
Do you want the peace of mind that your basement waterproofing contractor will stand behind their work?
We've got the answer!
Call (502) 968-4444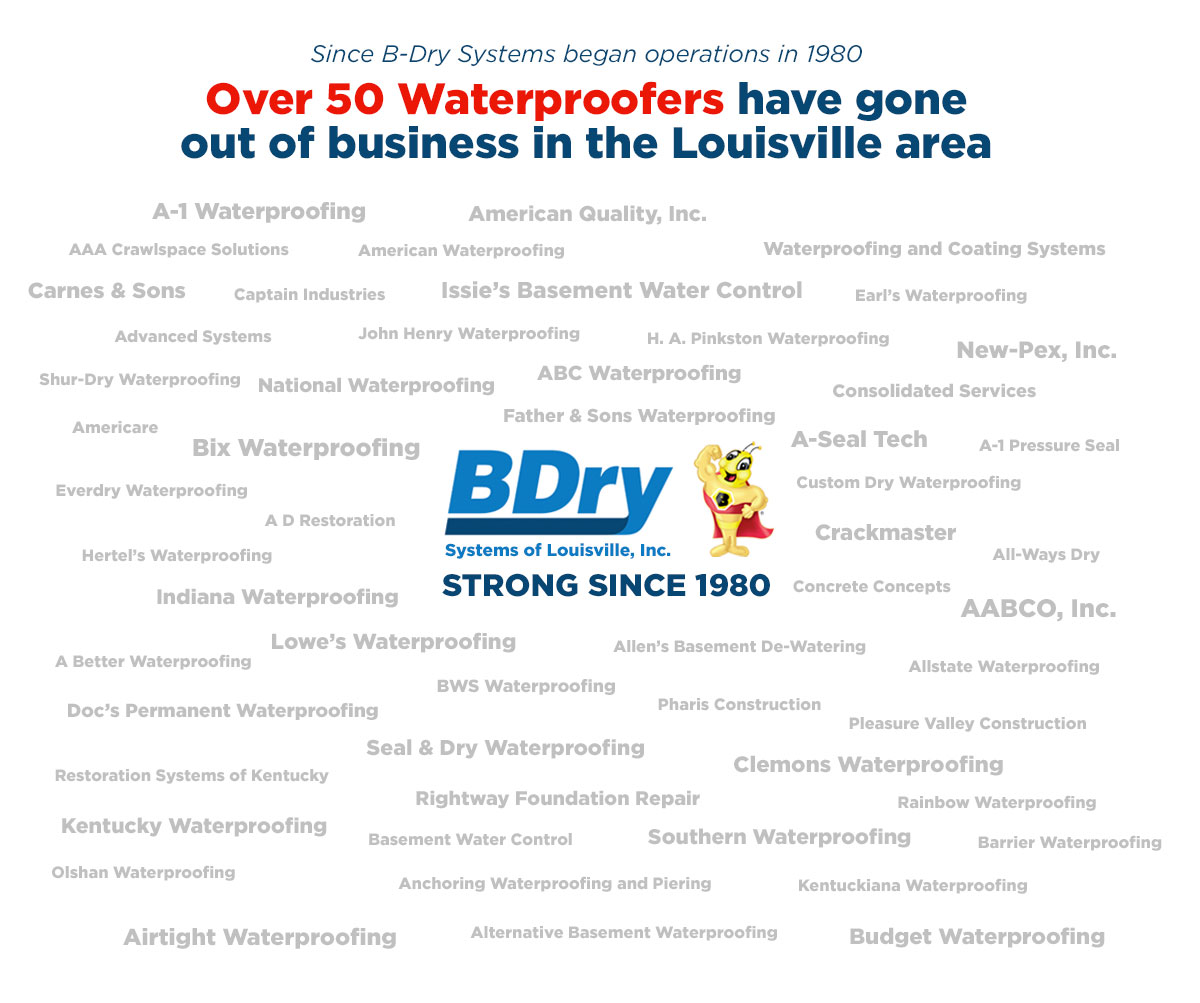 Don't be fooled by the cheap imitators offering a low price and making promises they won't be around to keep.
There is only one B-Dry® Systems of Louisville! We are the area's number one waterproofer for a reason. We offer a lifetime warranty* to the original purchaser of our waterproofing work for as long as they own the home. When the original purchaser of our waterproofing work sells their home, our warranty* can be transferred to the new home owner. Best of all, B-Dry® Systems of Louisville will be here to honor our warranty should the need ever arise.
When you choose B-Dry® Systems of Louisville to waterproof your home, you will get:
The patented B-Dry® waterproofing system
Our lifetime warranty* offered on the B-Dry® System
Even better, you'll get something that's invaluable: peace of mind. Our warranty provides our customers with the protection they deserve.
We encourage our customers to compare our warranty and our reputation to that of our competition.
Consider this…
If you had B-Dry waterproof your basement with the B-Dry System® back in 1958, it would still be under warranty today!
*The lifetime warranty is offered and backed exclusively by B-Dry® Systems of Louisville, Inc. Please see our warranty document for complete details.