Sump Pump Installation, Replacement, and Repair
24 Hour Emergency Service in the Louisville area!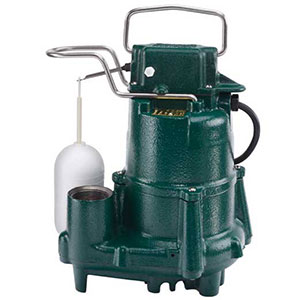 It's a dark, stormy night. Rain is falling hard and there is no sign of it letting up. The rhythmic cycling of your sump pump turning off and on is a comforting sound. Your sump pump is the heart of your waterproofing system. A properly sized, installed and maintained sump pump is critical to keeping your basement dry. A sump pump failure during heavy rains could easily result in a flooded basement. Your B-Dry® Systems of Louisville consultant will offer expert advice when it comes to choosing the right sump pump type and configuration to help keep your basement dry.
Need a sump pump installed or replaced?
We offer many configurations and emergency service.
Call us anytime (502) 968-4444
The manufacturers of sump pumps typically recommend that the pump be inspected at least once per year. If your pump runs frequently, it is a good idea to check it more frequently. A good sump pump inspection should verify pump operation; ensure nothing is hindering the movement of the float switch; confirm the check valve is functional; test and service battery back-up if equipped; replace high water alarm battery if equipped; and make certain the discharge line is unobstructed and pumping the water away from the home's foundation. When inspecting the pump, the sump itself should also be cleaned removing all debris and any excessive dirt, gravel, or sand that has accumulated. Any obstructions in the sump could reduce the pump's capability to pump water and possibly get into the pump impeller and stop the pump from running. If you would rather not trouble yourself with inspecting your pump and cleaning a dirty sump, your B-Dry® Systems of Louisville waterproofing expert will be pleased to do it for you. Just call us and schedule an inspection.