Basement & Block Basement Windows & Window Wells
We offer window well installation, replacement, and drainage. The primary reasons basement windows leak are either lack of window wells or window wells filling with water. We can both install new window wells and add drainage to window wells to prevent these types of leaks.  If you would rather eliminate your basement windows completely, we can also remove existing windows and block in the openings.
Don't let basement window leaks ruin your basement!
Let B-Dry® Systems of Louisville stop the leak.
Call us anytime (502) 968-4444
Window Wells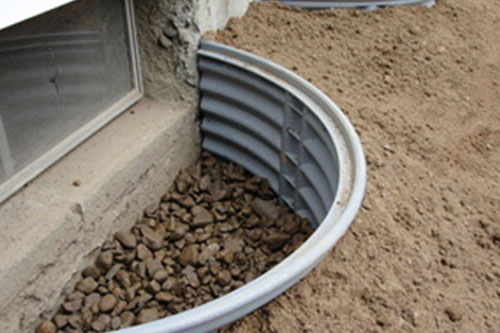 Window wells are small retaining walls made of metal, masonry or poly-carbonate installed around below-grade basement windows to hold earth away from the windows. A properly installed window well will protect your basement windows, reduce the likelihood that the window will leak, and allow more natural light to enter your basement.
In the past, most window wells were made of galvanized steel. Over time these steel window wells rust and decay allowing increasing amounts of water to build up near the basement window and frequently resulting in basement leaks. Most current window wells are made of durable poly-carbonate that will not rust and are designed to reflect additional light into your basement.
A properly installed window well provides a means for any water entering the window well area to drain away rather than build up around the window. To accomplish this, the window well requires a gravel bed underneath it and possibly a drain. We recommend that all non-egress window wells be kept covered with a clear window well cover. Not only will the cover eliminate falling rain from entering the window well, it will also provide additional security and protect the window. Window wells should also be cleaned out if any debris settles in them to prevent clogging of the gravel bed. We offer full service of window wells including window well installation, window well cover replacement, window well waterproofing, and window well cleaning. We are here to keep your basement dry! Call us today 502-968-4444.